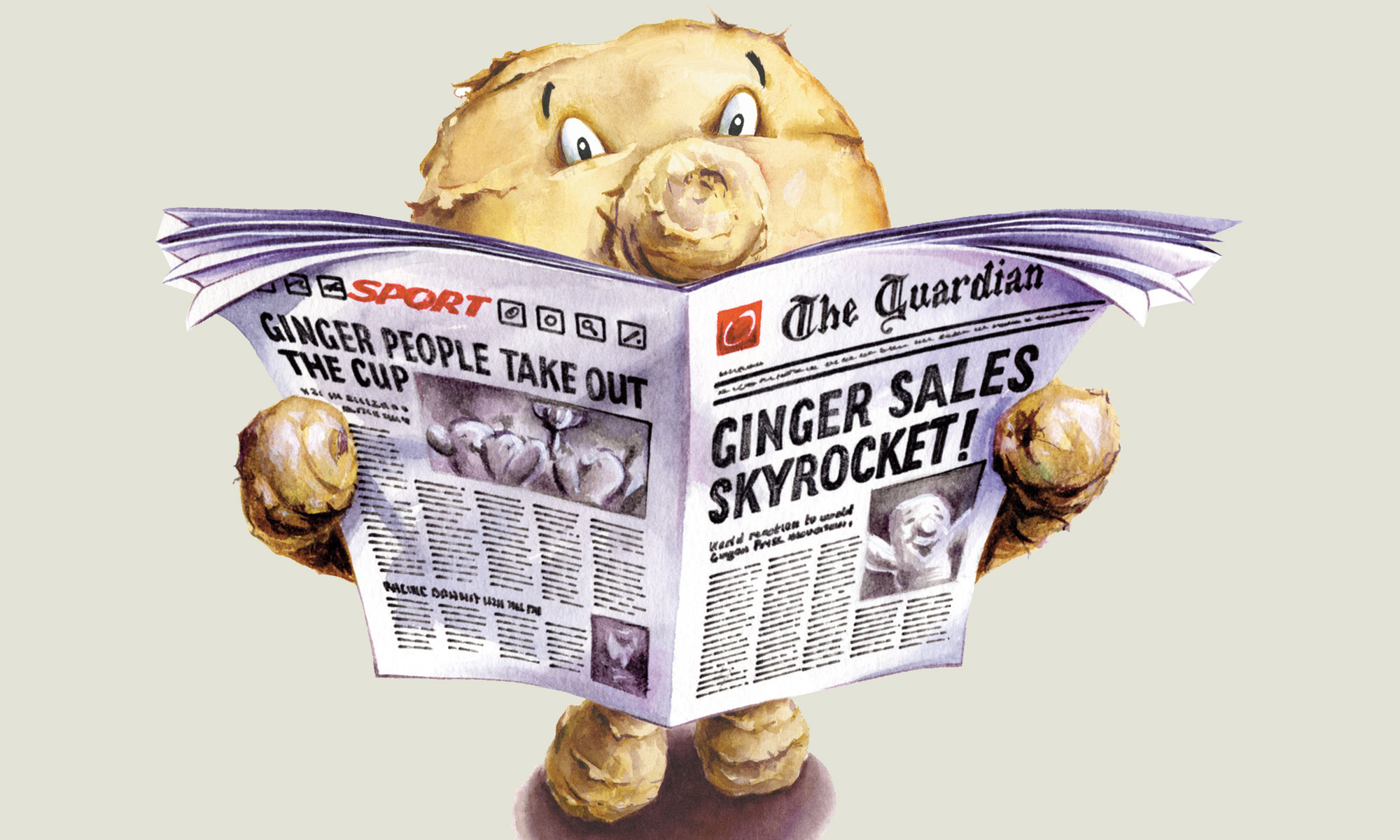 If a headline sounds too good to be true, (e.g. "Ginger Cures Cancer"), turn up your skepticism and fact check
I love a headline that grabs my attention. I'll hungrily read the article that follows and spiral down an internet rabbit-hole of "news." Catchy headlines are prominent in the wellness sphere, and despite the initial thrill, with a little discernment and some scepticism, many articles are ultimately disappointing. But at first glance, if I can get caught up in outlandish health claims online, despite years of education and practice in nutrition as well as a Masters in Public Health, I can imagine how challenging it is for someone outside the field to navigate web-based health. I hope to make this process easier by sharing some ways I find quality data, with a focus on ginger and turmeric.
Red flags
A catchy headline says nothing about the substance of an article. However, if a headline sounds too good to be true, (e.g. "Ginger Cures Cancer"), turn up your scepticism and fact check. Similarly, if links or details about research are not included (in other words, if I'm not provided with enough information to find research myself), I will not value any claims the article makes. Lastly, take a peek at the author's credentials. Although plenty of the best and most discerning science writers do not have medical credentials, I appreciate a baseline education and code of ethics within certain institutions.
Challenges with nutrition research
Once you've read through an article and find the referenced research, dig up the actual study publications on PubMed. There are A LOT of problems with nutrition research, which is part of the reason we get mixed messages about food and health. Add to the challenge the continuously changing nutrition guidelines (eggs are bad, eggs are good, etc.). There are many reasons for this state of flux. Here are a few:
Nutrition studies often rely on self-reported data, which is unreliable.
Nutrition studies are underfunded compared to pharmaceutical studies because of the major financial upside to developing new drugs. If a nutrition study is conducted in a controlled environment (more reliable), it's often small due to financial constraints.
Nutrition research is sometimes funded by companies that have a financial stake, which introduces bias. Compared to pharmaceuticals, the health effects of specific foods are often subtle and part of a greater lifestyle full of variables and
confounders.
What to look for in research on ginger and turmeric
Because of the common issues with nutrition research listed above, be wary of health claims relating to specific foods. Ginger and turmeric are two of the most well-established spices in the medical sphere, and still, studies are small and limited. The best type of research to evaluate cause and effect are randomized controlled trials (RCT). For studies on ginger and turmeric, look for experiments that use a placebo and are also "double blind" to minimize the likelihood of the placebo effect. Trials like these are expensive to conduct with a human population, so many of the studies on ginger and turmeric are conducted in a test tube ("in vitro") or on lab animals. Studies like these are a valuable first step in learning health information, but cause and effect cannot truly be established until several studies have been conducted on humans. Because human RCTs tend to have a small number of study participants, the other type of study to look for are meta analyses. This type of research pools data from all the studies on a specific topic, giving weight to whatever conclusions are reached.
Where to find trustworthy nutrition information
When writing for The Ginger People, I try to provide balanced, unbiased information about ginger and turmeric. I share my excitement about studies that provide optimism for the health benefits of these spices, but my claims are never outlandish and always include a disclaimer. To find research yourself, PubMed is a great resource, but without experience in medicine, full text research can be difficult to decipher. One of my favourite resources for professionals and lay people is the Memorial Sloan Kettering About Herbs database, although this is mostly geared toward cancer. The National Center for Complementary and Alternative Medicine provides information on some of the most popular kinds of complementary medicine. Somewhat limited in scope, it's a good place to find trustworthy, conservative information. And lastly, I cannot emphasise enough how important it is to have a caring healthcare team – doctor, dietitian, etc. who is willing to sit down and discuss whatever lifestyle change you're curious about – no matter how outlandish it may seem.
We are always happy to take your questions about ginger and turmeric at [email protected]
Alexandra Rothwell Kelly is a Registered Dietitian with a Masters in Public Health, currently residing in San Francisco. She received her undergraduate degree from New York University and completed her graduate studies at Mount Sinai. Alexandra has several years of experience in oncology nutrition at the Tisch Cancer Institute in New York and has performed clinical research in integrative medicine and health technology. She conducts individualized nutrition and lifestyle counseling with a focus on general wellness, chronic disease prevention, and cancer survivorship.