PREP: 5 MIN  |  BAKE: 15 MIN  |  SERVES: 8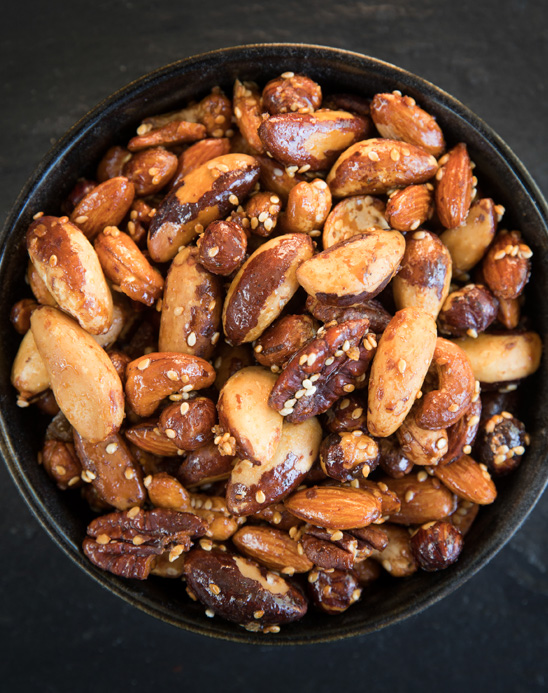 recipe note
For a flavor twist, substitute 5-spice powder, cinnamon or curry powder for the cayenne pepper.
Recipe by Deb Aitchison
Lover of cozy dinner parties where she can present her tried-and-true recipes, Deb Aitchison has a no-fuss, simple but stylish approach to healthy food and believes its about a joyful celebration of eating well and living well. Adding ginger to many of her favorite recipes elevates the flavor and creates a vibrant, new dish. Her mantra: Explore, experiment, enjoy.
Super Simple Ginger Party Nuts
Ginger-sweet meet salty-spice. A simple go-to recipe for party snacks and gift giving.
ingredients
directions
Preheat oven to 175°C. Line a baking sheet with parchment paper.
Combine nuts, Uncrystallised Bare Ginger, sesame seeds, salt, pepper and cayenne in a large bowl.
Heat Ginger Syrup in small saucepan over medium heat. Pour warm syrup over nut mixture and toss well to evenly coat.
Arrange nuts on prepared baking sheet.
Bake until nuts are golden brown, about 15 minutes, stirring 2 or 3 times. Cool completely before breaking into bite size pieces.
These are so delicious. I make several batches every year at holiday time to give as gifts, use as a dessert topping, or enjoy with a cheese tray instead of a sweet.